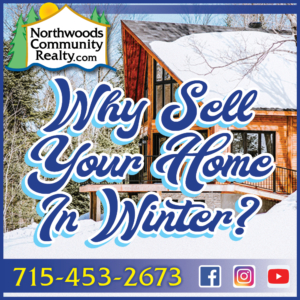 Around the Northwoods there are a lot of people who are thinking about selling their home, but they want to wait until Spring. There are, however, a few reasons why winter may be a good time to sell your home. First, there are fewer homes on the market during winter. This means there is greater competition and winter home sales can net more money for sellers. While we've seen the number of listings decline going into the winter months, we have a growing number of pre-approved buyers looking for homes.
Come Spring and Summer, the Northwoods housing market usually sees a surge of new listings. This dilutes the market, and home prices go back down. It's great for buyers, but sellers get a lower return on their real estate investment.
A concern we hear often is, "If I sell my home now, and there's nothing to buy… where will I live?" That's a legitimate concern. Our clients' interests come first, so we start by asking what YOU are looking for. As real estate professionals, we have the inside track on new listings. It's our job to find
We'd love to have a conversation with you about winter home sales. Whether you're thinking of selling or just curious what your property is worth, let us know. We'd be glad to provide you with a free Comparative Market Analysis, and find out how your home or land could perform in the current Red Hot Market. You may be surprised at what similar properties have been selling for. The market isn't going to stay this active forever, so call TODAY to get the best possible return on your real estate investment!
If you have any questions about real estate in the Northwoods, we'd love to answer them for you! Contact Northwoods Community Realty today, and don't forget to follow us on Facebook, Instagram, and YouTube!